Happy Mallows
Branding, illustration, packaging, POS, stationery
Welcome to the wonder-fluffy world of the Happy Mallows, 100% handmade gourmet marshmallows.
Share in their delight
Our challenge was to create a vibrant and quirky, yet premium rebrand for the Happy Mallows, bringing the joy you get from eating their delicious gourmet marshmallows to the forefront of the design.
Alongside the rebrand, we worked alongside the client to create a new range of boxes for their 9 delicious flavours.
Using fluffy clouds and quirky characters, we created an illustrative world for the mallows to live in, each one joyful in it's own unique way.
Subtle textures and soft shapes echo the all natural, fluffy nature of the mallows, with each flavour conveyed through use of vibrant, all natural colours and engaging imagery.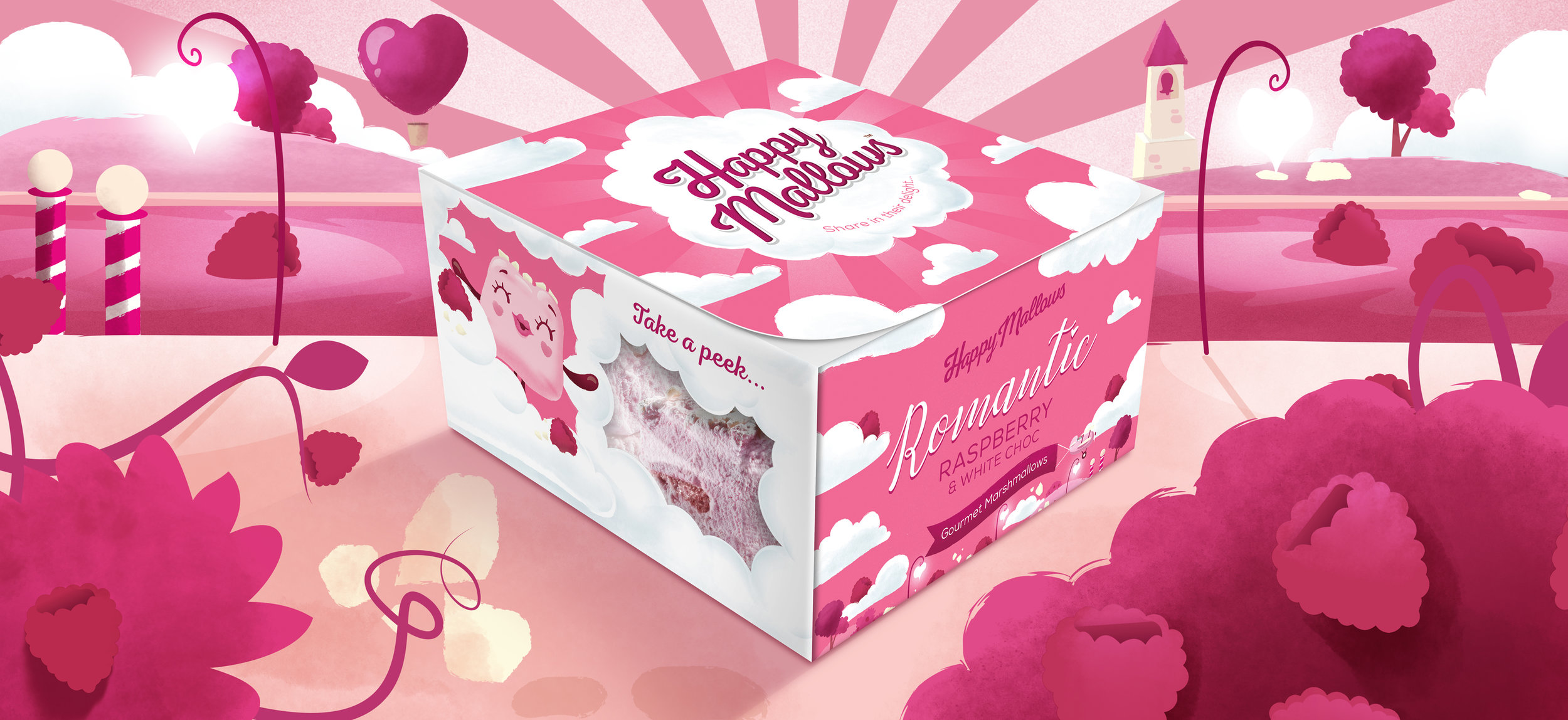 Meet the mallows...
We created a full range of characters to bring to life each unique flavour. Each character lives within their own land, which is printed on the inside of the packaging, giving the consumer an immersive and exciting experience when opening the box.
Our client said...
We cannot say enough just how Happy we are to have found Cann Creative and to have had them handle the creation and Illustrations of our new Happy Mallows packaging designs!
We had an extremely big idea in mind for our future branding and as a company we wanted none other than the very best designer to handle it. We believe we found just that with Cann Creative. The designs from start to finish all came out better than we ever imagined and we still can't believe just how amazing the finished product of ours turned out.
It has been an absolute pleasure to work with this company; they are very friendly, easy to work with and offer great affordable rates. The enthusiasm for the job at hand and the eagerness to create the very best ideas and finished work is what we believe sets this company apart as a design agency. We really look forward to hopefully working with them for the long foreseeable future!
If you have a design idea in mind, then I would strongly suggest to use this company; you will be very glad that you did.